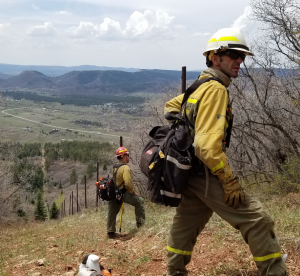 The Rio Grande Water Fund entered into multi-year agreements with the Albuquerque Bernalillo County Water Utility Authority, Middle Rio Grande Conservancy District and USDA Forest Service to catalyze forest and riparian restoration and build the capacity for collaborative conservation. The first year of funding for projects and capacity building is $640,000 or more, with $2.7 million available over four years. The first Request for Proposals (RFP) is open through January 22, 2018. Full details are available here.
The Rio Grande Water Fund (RGWF) is seeking to fund landscape-scale projects (e.g., 50,000 acres) that share the following goals (1-4). All projects should align the with the 2014 Rio Grande Water Fund Comprehensive Plan.
Reduce the probability of historically uncharacteristic high-severity fire in forests and woodlands
Increase water holding capacity, biodiversity, and habitat in wetlands, riparian areas, or streams
Improve the resiliency of ecosystem services adjacent to communities, such as water sources, forest products, or recreation and tourism
Develop, or strengthen relationships between local communities, interest groups and landowners or managers by working across jurisdictional boundaries
Projects must be located within one of the focal areas identified in the RGWF comprehensive plan (map). These areas include: 1) Sandia and Manzano Mountains; 2) Jemez Mountains; 3) San Juan/Chama area; and 4) West-slope of the Sangre de Cristo Mountains. Eligible lands for projects can include federal, state, tribal, county, municipal, or private properties
Application Process
When you have read the RFP and are ready to apply, please use this online form that will guide you through the application process. The form has many required fields and you can scroll through the entire form without filling out the fields. You will not, however, be able to submit the form until all fields are filled out. As you page through the whole form before beginning to fill it out, be sure to select the categories you would like to apply for, as this will change which pages are visible to you. There is an option to "save and return later" at the bottom of each page of the form. Saving will create a unique link for your submission; the link will be emailed to you, be careful not to lose the link. Documents you select for upload will not be saved, so please only upload documents just before you submit the form. A copy will be emailed to you after you submit the form. If you have any questions, please email RioGrandeWF@tnc.org or call 505-946-2637.