Signatories of the RGWF Collaborative Charter include a wide range of stakeholders. 100 organizations have signed the charter.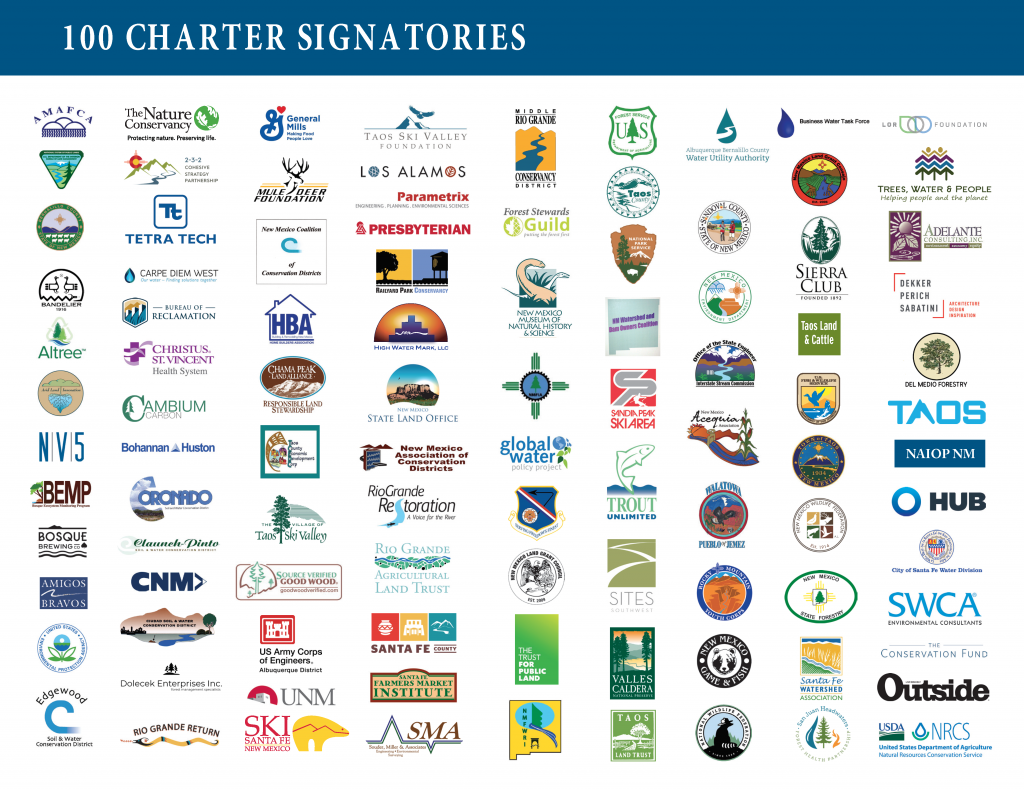 Alphabetical list updated August 27, 2021.
Adelante Consulting
Albuquerque Bernalillo County Water Utility Authority
Albuquerque Metropolitan Arroyo Flood Control Authority
Altree
Amigos Bravos
Arid Land Innovation
Bandelier National Monument
Bernalillo County
Bohannan Huston, Inc.
Bosque Brewing Co.
Bosque Ecosystem Monitoring Program
Cambium Carbon
Carpe Diem West
Central New Mexico Community College
Chama Peak Land Alliance
Christus St. Vincent
City of Santa Fe
Ciudad Soil and Water Conservation District
Claunch-Pinto Soil and Water Conservation District
Coronado Soil and Water Conservation District
Dekker/Perich/Sabatini
Del Medio Forestry, LLC.
Dolecek Enterprises, Inc.
Edgewood Soil and Water Conservation District
Forest Stewards Guild
General Mills
Global Water Policy Project
Highwater Mark, LLC.
Home Builders Association of Central New Mexico
HUB International Insurance Services Inc.
Kirtland Air Force Base
LOR Foundation
Los Alamos County
Middle Rio Grande Conservancy District
Mule Deer Foundation
NAIOP New Mexico
National Park Service
National Wildlife Federation
Natural Resources Conservation Service
New Mexico Wildlife Federation
NM Acequia Association
NM Association of Conservation Districts
NM Business Water Task Force
NM Coalition of Conservation Districts
NM Department of Game and Fish
NM Environment Department
NM Forest and Watershed Restoration Institute
NM Forest Industry Association
NM Interstate Stream Commission
NM Land Grant Consejo
NM Land Grant Council
NM Museum of Natural History and Science
NM State Forestry
NM State Land Office
NM Watershed and Dam Owners Coalition
NV5, Inc.
Outside Magazine
Parametrix
Presbyterian Healthcare Services
Pueblo of Jemez
Railyard Park Conservancy
Rio Grande Agricultural Land Trust
Rio Grande Restoration
Rio Grande Return
Rocky Mountain Youth Corps
San Juan Headwaters Forest Partnership
Sandia Peak Tramway & Ski Area
Sandoval County
Santa Fe County
Santa Fe Farmer's Market Institute
Santa Fe Watershed Association
Sierra Club
Sites Southwest
Ski Santa Fe New Mexico
Souder Miller and Associates
Source Verified Good Wood
SWCA Environmental Consultants
Taos County
Taos County Economic Development Corporation
Taos Land and Cattle, LLC.
Taos Land Trust
Taos Ski Valley Foundation
Taos Ski Valley Inc.
Tetra Tech Inc
The Conservation Fund
The Nature Conservancy
The Trust for Public Land
Town of Taos
Trees, Water & People
Trout Unlimited
Two Watersheds, Three Rivers, Two States
University of New Mexico
US Army Corps of Engineers
US Bureau of Land Management
US Bureau of Reclamation
US EPA Region 6
US Fish and Wildlife Service
USDA Forest Service
Valles Caldera National Preserve
Village of Taos Ski Valley