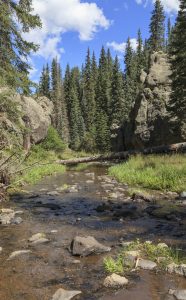 Annual Reports
Our 2022 2-page Fact Sheet and full Annual Report for more information on funds raised, acres restored and to hear from our RGWF partners. Be sure to take a look at the newly updated RGWF page on Nature.org – nature.org/riogrande –for events, photos, and blog posts.
2021 Annual Report
2020 Annual Report
2019 Annual Report
2018 Annual Report
2017 Annual Report
2016 Annual Report
2015 Annual Report
RGWF Videos
Interested in learning more about the Rio Grande Water Fund? Check out these short videos to find out more about the importance and impact the RGWF makes!

Highway 150 signs
The Rio Grande Water Fund, in partnership with the Taos Valley Watershed Coalition, the US Forest Service, and the Taos Ski Valley Foundation recently installed three signs along Highway 150 outside of Taos. The signs are located at Lower Hondo Campground, Cuchilla Campground and Twining Campground/Bull of the Woods trailhead. Next time you're up in Taos be sure to take a look at the real things. In the meantime, here are links to PDF versions of the signs:
Trees Tell the Story
Seeing the Forest and the Trees
Life Along the River
Stream, Wetland, and Aquatic Restoration Projects
Visit our SWARP Resources page to find information on Best Management Practices, beaver reintroduction, and more!